Every now and then I play Desert Strike HotS, which is an arcade game on the StarCraft 2 platform.
It is a 3v3 tug of war game. You place units on your platform, and they all spawn periodically and head towards the other side of the map. The game ends when you kill the base of the enemy team.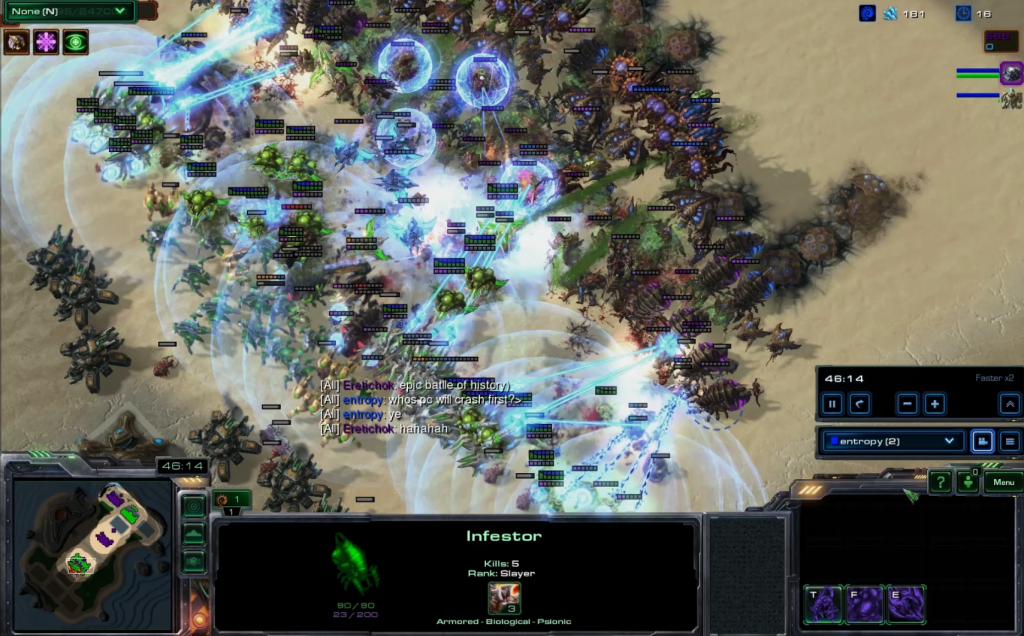 You cannot control the units after they spawned (with the exception of some abilities), they just engage the enemy units as the AI sees fit. That means placement of units can be almost as important as what units you choose to counter the enemy force.
To place units, you need minerals, which you get though a steady income. Every second or so you get some minerals. The team that controls the centre gets 15% bonus income. You control the centre by having the battle take place on the other side of the centre line. A second way to increase your income is to "build a gas" (a refinery building). Doing so costs 100 minerals and pauses your income for some time. Each new gas you place pauses your income longer. Once the gas finished, your income resumes, with a 10% bonus. You can maximum build 3 gas (plus an additional one in late game). Halfway between the centre line and the enemy base on each side, there is a tower (defensive structure) of the team on that side. Killing this enemy tower gets each player of the team 200 minerals.
Those are the basic game mechanics, in particular those related to economy. This post is on how it is a bad idea to rush building gas, something a lot of people are doing. And most of them don't seem to understand why it is unwise, even while it's so simple.
10% income bonus is nice. However, 15% income bonus for both you and your two allies is clearly nicer. Quantifiable so: 4.5 times.
Now this 4.5x advantage is not holding into account two additional relevant factors. If the advantage is 4.5x, it means the enemy team has to build 4.5 gas to cancel out your centre control. That means all their players need to invest in a gas, and two need to even get their second gas (which is more expensive than the first). At that point you are even income wise, assuming your team did not build any gas yet. Phrasing it like this makes it clear that your team can however build one, and then be ahead. The second factor is that having these gas does not give you a tactical advantage, while controlling the centre does. It means you are closer to their tower, and if you take it out, you get that 200 minerals bonus.
So clearly, the best investment you can make is securing the centre. And jeopardizing centre control for getting a gas is folly. One should only get gas during periods in which the centre is secure.
Unless your opponents don't know how to play (hint: gas rush is a good indication), you will need all the minerals you have dedicated to controlling the centre. At the beginning of the game, you have few units. Every mineral makes a difference, which also makes it so much more important to cause a huge income gap by having the enemy team control the centre. So it really is the worst possible time to get a gas. It's a "long term investment" which ends up costing you in the short term, and even more in the long run.
I wonder if these gas rush noobs put their real money on savings accounts, and than go borrow money because they locked away too much. There definitely seems to be correlation between gas rushing and not being very smart, as manifested by playing badly. So how do I know that these people are generally not simply new to this game, and simply don't know the mechanics? Amazingly, a lot of them have played the game hundreds of times (which is a lot more than me). If after playing so many times, you still do not know which units to get, where to place them, and how gas rush correlates to stupidity and defeat, well, then you are probably indeed not the brightest person around. I've also asked many gas rushers why they think it's a good idea, and most of them make it clear they indeed don't get it, and are completely certain that the stupid thing they did the last 500 games is a great idea.
Time to end the rant and switch to some screenshots. And yeah, I did not know "gas" is spelled with only one "s" 🙂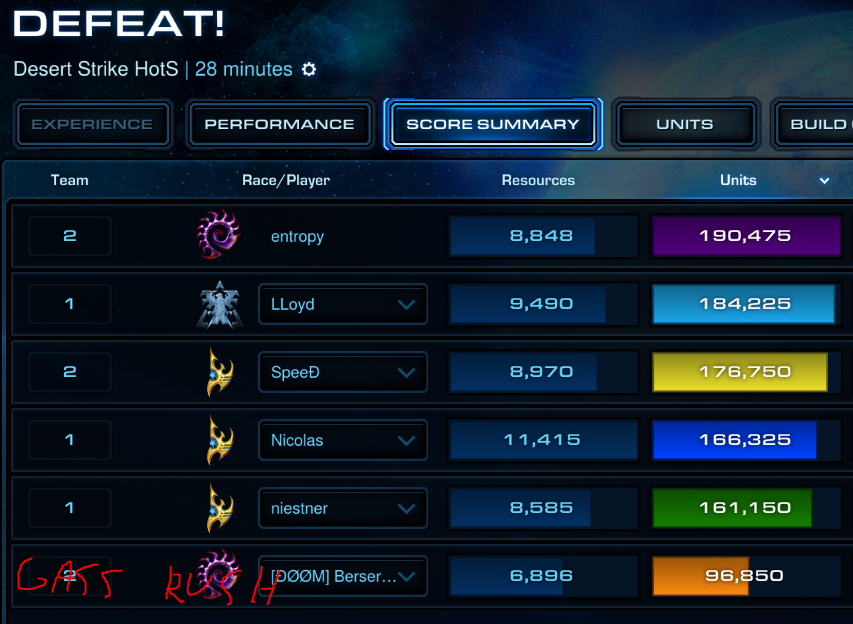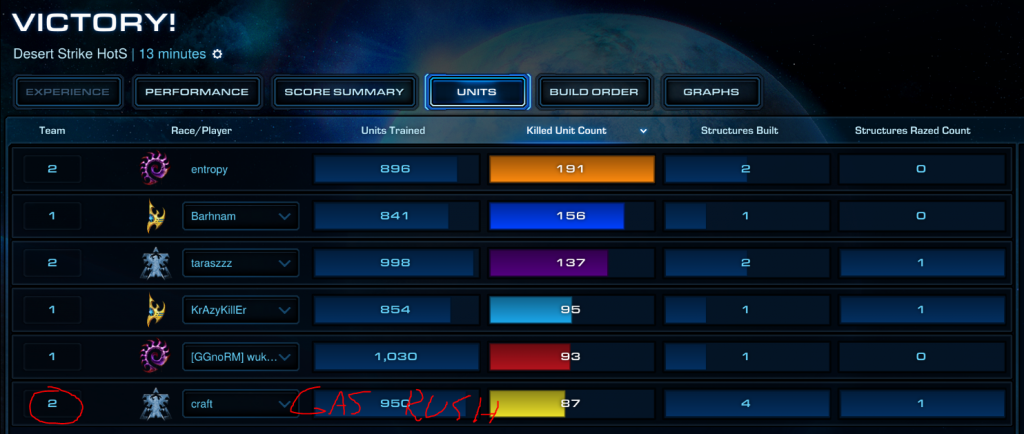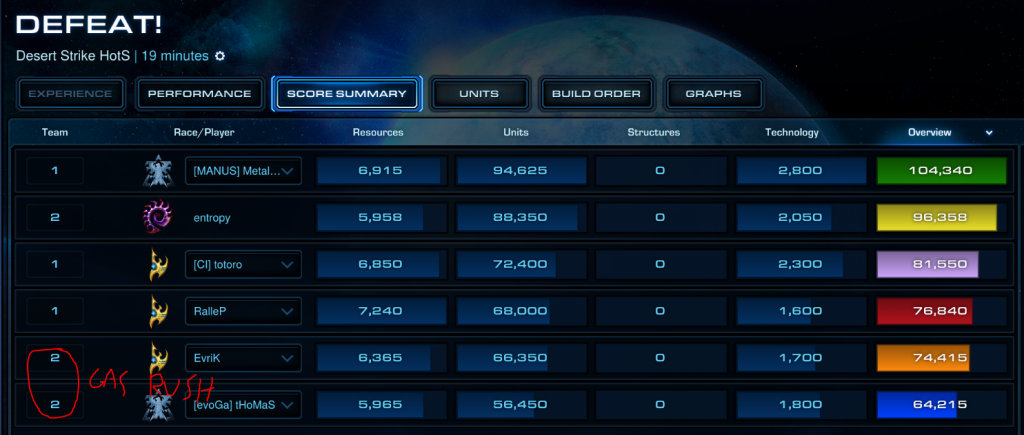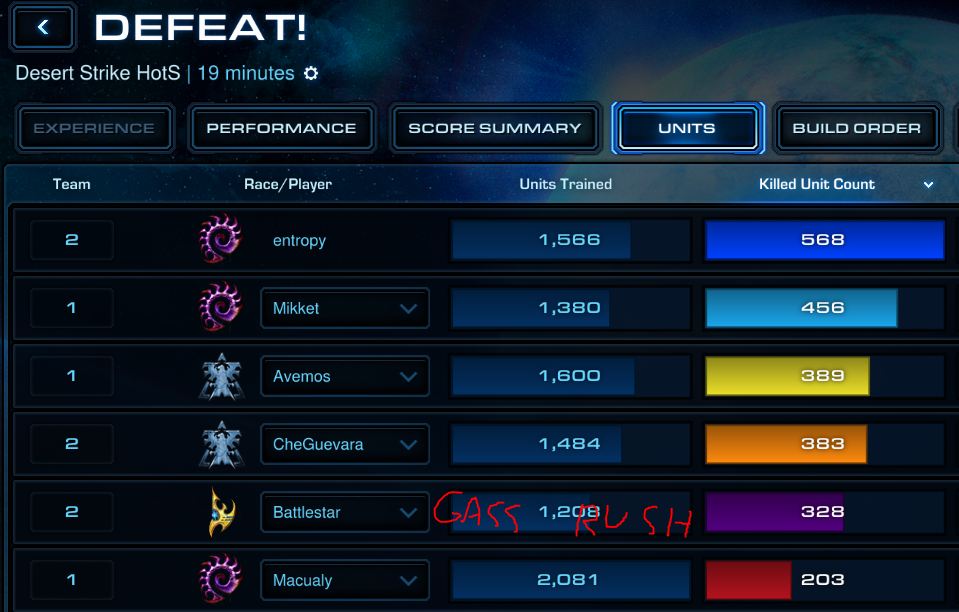 And here you have a video of me playing the game, without anyone in my team gas rushing.