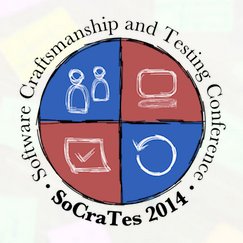 Last week I attended SoCraTes 2014, the 4th International Software Craftsmanship and Testing Conference in Germany.
Since this was the first time I went there, I did not really know what to expect, and was slightly apprehensive. Turns out there was no need for that, the conference was the most fun and interesting I've been to recently, and definitely the most motivating as well.
What made it so great? Probably the nicest aspect of the conference where the people attending. Basically everyone there was passionate about what they were doing, interested in learning more, open minded, and respectful of others. This combined with the schedule being purely composed out of sessions people proposed at the start of the day made the whole atmosphere very different from that of your typical commercial conference. Apart from attending sessions on various topics, I also did some pair programming and played my first set of beachvolleyball games at a software conference.
I'm definitely going back next year!